Dogecoin
From WikiCryptoCoins
Dogecoin cryptocurrency guide advises where to buy and how to buy Dogecoin. This guide also contains the markets, value, trading, investing, buying, selling, transactions, blockchain, mining, technology, advantages, risks, history, legislation, regulation, security, payment, networks and many other interesting facts about Dogecoin as well its status in the world of cryptocurrencies.
Dogecoin, Tuesday, 2018-08-14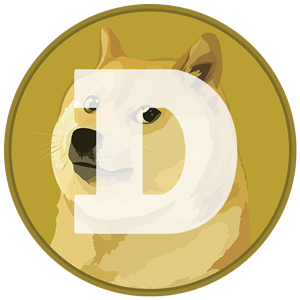 What Is Dogecoin?
Dogecoin is a decentralized and open-source cryptocurrency featuring a Japanese dog referred to as Shiba Inu as its logo. It was taken from the Doge meme because the founder, Billy Markus wanted to create something fun to associate with. He wanted a network that people could look and feel part of in a fun way.
The cryptocurrency is considered better than Bitcoin because of its unique features. The transaction time at Dogecoin is well under one minute compared to 10 minutes at Bitcoin and 2.5 minutes at Litecoin. Besides, unlike Bitcoin that has a finite supply of 21 million coins, the supply of Dogecoin is infinite.
Dogecoin uses proof-of-work consensus algorithm. This means that miners have to take up transactions and confirm them before adding them to the public ledger. Note that though it employs PoW (proof-of-work) like Bitcoin, the hashing technology used is scrypt. This implies that it is resistant to ASIC miners. You cannot mine it using the ASIC equipment designed for mining Bitcoin. Other details of Dogecoin include;
The first block: 08/12/2013
Block time: 1 minute
Total number of coins: Infinite
Hash function: Scrypt-based
Block reward: By February 2018, the block reward was 10000 Dogecoins/ block.
The cryptocurrency, like the community puts it, was looked at as a joke and its price remained well below $0.0005 mark up to May 2017 when it shot up with more than 500%. The growth did not stop there. It went up to the highest possible mark, $0.018 by early January of 2018. The community is now very optimistic that the cryptocurrency could be the next Bitcoin.
Beginner's Guide to Dogecoin
Have you been looking for a cryptocurrency network that is really fun? Well, you have come to the right place. The Dogecoin cryptocurrency was created in 2013 with an aim of giving the community a new way of looking at cryptocurrencies. The developers and the entire community have made the cryptocurrency one of the most valuable, especially in the recent past. This coupled with its acceptance for direct payment in very many stores further helps to increase the demand and value growth of the cryptocurrency. But before you can jump to it, is advisable to take a closer look at this cryptocurrency and make an informed decision.
This guide was created to help you review Dogecoin and help you to understand its features. It is carefully designed to help answer all the questions and doubts you might have about the network. From the Dogecoin blockchain technology to mining, you can get everything here. Continue reading to learn more about where to buy, the advantages, risks, security, and more about Dogecoin.
Where and How to Buy Dogecoin?
Though Dogecoin price has remained low compared to its peers established around 2013 and 2014, its recent performance has made many people change their view about it. Now, people are asking how to buy the native coins and the anticipated ROI (Return on Investment). There are two main ways of buying Dogecoins.
Buy Dogecoins from the cryptocurrency exchanges: These are the main markets designed for trading cryptocurrencies. They operate in many aspects like forex markets but deal with crypto coins as opposed to fiats. Top examples of these exchanges include Bittrex, HitBTC, and Poloniex. Note that buying from these exchanges require users to have trading accounts and verify them with government recognized details.
Purchase from those who already have Dogecoins: For people who do not want to follow the lengthy procedures of registering and verifying accounts at the exchanges, an alternative route is buying directly from those who already have the coins.
The rising number of cryptocurrencies and growing communities have resorted to the emergence of cryptocurrency clubs that help to bring together all with interest in cryptocurrencies. In addition to discussing things about cryptocurrencies, these meeting points have also become great points for selling cryptocurrencies such as Dogecoin. Note that though the process is simple because there are no restrictions, it can take a lot of time before identifying a person willing to sell the same quantity of Dogecoins you want to buy. Some great clubs to consider include London Cryptocurrency Club and Cryptocurrency Collectors Club.
Note that though there was a short notion and demonstration of Dogecoin ATMs, their adoption has not been actualized. Questions still linger whether the ATMs would be stationed in public places or under specific exchanges. In one of the demonstrations in Vancouver, the ATM worked well around 2014 but has not been actualized since then.
Dogecoin Wallet
If you are planning to buy Dogecoin or join its community, one of the most important things is a Dogecoin wallet. This is a digital location meant for holding your crypto assets. Note that even if this is the accepted definition, it is indeed a misnomer. Crypto coins are digital assets that only reside in their native networks. They are not minted, cannot move outside the network, and cannot be stored elsewhere. That is right. So, how does a Dogecoin wallet work?
A Dogecoin wallet stores sets of codes that help to link you with your coins in the Dogecoin network. The wallets also help owners to take control of the coins and protect them. The first code generated by the wallet is the private keys. This is a special code that helps to call your crypto coins to live when making transactions and checking your balances. Like the name suggests, the codes are private and should never be shared with third parties.
The second code generated by the wallet is the seed. This is a special code used for generating the private keys in case something goes wrong. Like the private keys, the seed should also be kept private and away from third parties. It is very important that you store the private keys away from the main computer to make recovering Dogecoins easy.
The last code generated by the Dogecoin wallets is the public address/keys. This is the key that points at your wallet and should be provided to people who want to pay you in Dogecoins. Like the name suggests, the code is public and you should not worry about sharing it with the public. Note that the Dogecoin miners use the public keys to confirm transactions.
The main Dogecoin wallet is the Dogecoin Core/ Reference Client. It also serves as the wallet for all the services, merchants, and payment processors. Besides, it is a heavy weight allowance client, able to handle high end transaction loads and larger sized transactions.As a desktop wallet, it implies that you will need to start by downloading and installing on your computer to be able to interact with the Dogecoin blockchain. Here are other top Dogecoin wallets to consider. Note that they have released a Dogecoin mobile-based wallet.
Ledger Nano S (hardware wallet).
Jaxx (Desktop and mobile wallet).
Coinomi (Desktop wallet).
Keepkey (hardware wallet).
Where to Buy Dogecoin with Credit Card?
Since cryptocurrencies debut, one of the top methods of buying with fiat currencies has been through credit cards. The cards have become a must-have for many people because they are accepted in most conventional as well as online marketplaces. If you want to purchase DOGE with a wire transfer, there are two ways to do it.
Buy directly from the exchanges that list them. These include platforms such as Kraken and Mercatox.
Where to Buy Dogecoin with PayPal?
PayPal and cryptocurrency networks such as Dogecoins do not go hand in hand. PayPal considers crypto networks and related networks such as trading platforms as direct competitors. Therefore, it disallows such transactions in its system. Though it appears that PayPal is willing to relax some of these rules, it is not until such policy changes are effected that direct payments will be possible. Therefore, those with cash in their PayPal accounts are left with no alternative other than offloading to a credit card or bank account.
How to Buy Dogecoin with Wire Transfer?
Banks are some of the most trusted organizations. Because of their emphasis on professionalism and long-term focus, people trust them to hold their savings and even financial advice. Indeed, even those at the forefront of calling for a cashless society still have bank accounts.
To buy Dogecoins with bank wire transfers, the first step is acquiring an appropriate wallet. This is the final location where the coins will go after the purchase process is completed.
Select an exchange that lists Dogecoin and that accepts wire transfer. Great examples include Kraken or TradeOgre.
Open a trading account at the selected exchange and verify with personal information such as proof of location, phone number, and date of birth. The verification information might change depending on the respective exchange.
On the trading interface, select the quantity of Dogecoins that you prefer and tick pay with a wire transfer. You will be prompted to add personal bank details that will authorize the selected exchange to make a claim.
Once you complete the transaction, it will remain in a standby mode for about 2-3 days or until the money hits the exchange. Then, the coins will be credited to your account.
The last step in purchasing Dogecoins is moving them from the trading account to personal wallet. At the wallet, you have absolute control over the coins.
Where to Sell and Trade Dogecoin?
The recent great performance of Dogecoin in the markets has made the crypto community to realize the hidden gem in this coin. Now, the rising demand presents a perfect opportunity for those with Dogecoin to optimize profitability. To rake more from this high potential coin, it is advisable to consider trading in the markets. However, you need to be extra careful because it is in the markets where you are most vulnerable.
Take a look at the cryptocurrency industry and the chances are that any big loss took place at the exchanges. From Mt. Gox hack of 2011 to the recent attacks at Coincheck in Japan, the common factor is that they all took place at the exchanges. Therefore, how do you pick a secure and reliable trading platform?
Only pick the exchange with ardent security features. At this point, you need to check for important features such as 2-factor authentication and use of cold storage. Some platforms even insure clients' assets.
Select the trading platforms that charge low transaction fees. An exchange with low transaction fees means that you will be able to keep most of the profits made from trading Dogecoins.
The ideal exchange should provide users with many cryptocurrencies to pair with Dogecoin. This ensures that you will always have a profitable pair to jump to when the current one becomes less desirable.
Go for the trading platform that allows users to download their digital assets immediately after trading is complete. This helps to reduce the danger of getting attacked when the altcoins are held at the exchange.
Note that trading platforms are operated in line with local laws in respective jurisdictions. This implies that before you can sell and trade Dogecoins, the first step should be opening a trading account and verifying it with government recognized information such as telephone number and date of birth. Some of the top trading and selling platforms include Gate.io, Livecoin, YoBit, and CoinExchnage.
How Much Are the Transaction Fees of Dogecoin?
Cryptocurrencies entered the market and won the people's hearts by promising them lower transaction costs compared to what centralized organizations charge. At Dogecoin, the average transaction cost is $0.0075. This makes it cheaper compared even to other top networks such as Bitcoin Cash and Ethereum which stands at $0.108 and $0.42 respectively.
Dogecoin Markets
The demand for cryptocurrencies and related solutions has been growing steadily over the years. More people are coming to cryptocurrencies to either use the networks to send funds or invest. These dynamics have seen the cryptocurrency markets also growing steadily. Here are some of the top Dogecoin markets.
1) Poloniex
Poloniex is a US-based crypto-to-crypto exchange started in 2015. It stands out from others because of its special features to help users understand the market. Its technical analysis charts and lovely live chats make it very easy to analyze the trends and take the right position. These are some of the reasons why a lot of traders have been trooping to Poloniex.
Since the hacking at Poloniex back in 2014, the exchange has been working on rebuilding its reputation. For example, it added a 2-factor authentication system that helps to prevent break-ins by unauthorized people. Despite this, some people still run away when they hear the hacking history.
The transaction fee at Poloniex is a maximum of 0.25% for the taker and 0.15% for the maker. This makes it one of the expensive options for traders to use. However, you can lower the charges to less than 0.10% for the maker and 0.20% for the maker if you trade Dogecoins worth more than 2,400 BTC.
The exchange lists very many cryptocurrencies that allow users to always have a profitable option to jump to. You could opt to pair Dogecoin with the leading cryptos such as Bitcoin or emerging but stable coins.
In addition to the high cost of using the platform, it also comes with limitation on withdrawals. For example, the first daily withdrawal limit is capped at $2,000. The third verification layer only allows users to withdraw up to $25,000. This puts a lot of limitation especially to those who want to trade large volumes.
2) Bittrex
This is a US-based cryptocurrency exchange started in 2014. It was founded by Bill Shihara who wanted to redefine how things were being done in other cryptocurrency markets. Bill was particularly concerned that most exchanges were very inefficient and insecure. The market has grown to become one of the leading platforms because of its unique operational model. Bittrex insists on getting everything done in strict adherence to the law. This implies that you have to provide a lot of information such as personal phone number and date of birth to get your trading account verified.
Bittrex describes itself as the most secure platform out there. The exchange utilizes advanced security technologies to ensure users' accounts and their assets remain as secure as possible. These technologies include 2-factor authentication and multi-stage wallet model that stores 80-90% of the total funds in cold storage.
The exchange supports very many cryptocurrencies. To make it even better, all the listed cryptocurrencies are thoroughly vetted to ensure they do not risk their funds with risky coins. The exchange is especially careful with new tokens such as Bitcoin Gold before listing them.
The transaction fee at Bittrex is a flat fee of 0.25% of every transaction volume. This makes it easy and direct for users to calculate their fees and optimize profitability.
Though Bittrex has done a lot of efforts to enhance its customer support, many people still feel that it is performing well below average on that niche. For example, many enquiries take a lot of time before getting replied to.
3) UPbit
This is one of the young cryptocurrencies that has taken the market by a storm. The exchange was started in September 2017 by Kakao, one of the largest messaging app developer in Korea. A lot of traders prefer the exchange because Kakao has demonstrated the passion for top tech products including the music streamlining services, mobile gaming, and a sharing feature.
At launch, UPbit indicated that it listed 111 cryptocurrencies. Then, it would work towards becoming the largest crypto market in South Korea. The exchange provides users with useful guides and real-time analytics to help them understand and trade like experts.
The trading fee at UPbit is 0.25%. Though the platform insists that it is within the standard range, traders have been calling for fee reduction to less than 0.1%. This would bring it to the range of other top Asian exchanges such as Binance and HitBTC.
The exchange boasts of advanced security features that guarantee users of utmost security. Besides, it also allows them to make deposits in fiat currency. However, it only supports the South Korean Won (KRW). This has made many people consider the exchange a localized platform.
Other top Dogecoin markets include Bit-Z, Cryptopia, FEX, CoinEgg, Sistemkoin, ZB, Tidex, CREX24, and CryptoHub.
Value of Dogecoin
Dogecoin performance between mid-2017 and early 2018 has been remarkable. It appears that many people are now coming to appreciate the gem that is Dogecoin and joining the network to enjoy lower fee, faster transactions, and secure operations.
In May 2017, the Dogecoin had a market capitalization of 130.0 million at a price of $0.0012. The value grew to reach $416.3 million in market capitalization at a price of $0.0036 on May 25th, 2018. This thrust the crypto to the top 50 most valuable cryptos by market capitalization. It also races well ahead of other cryptocurrencies including Waltonchain and Status.
Is It Profitable to Invest in Dogecoin?
If you are looking for a profitable cryptocurrency to join, Dogecoin could be a great option to consider. The cryptocurrency has shown great affinity to grow in value especially in the last half of 2017 and first quarter of 2018. For example, if you invested in the network between May of 2015 and the highest peak in January 2018, the value would have grown with more than 20,000%. The community is optimistic that the value of Dogecoin will keep growing in the coming months.
Note that though the signs indicate that Dogecoin is a highly profitable crypto, it is important to appreciate that a lot of factors come into play. For example, if the countries publish harsh regulations, value of cryptocurrencies such as Dogecoin is likely to slump. Other factors that come into play include competition from newer cryptocurrencies and ability to operate without getting attacked.
Where to Spend or Use Dogecoin?
Dogecoin is one of the main cryptocurrencies doing very well and winning acceptance by many traders. Though this can be pegged to the fact that the cryptocurrency has been in the market for longer compared to the emerging coins, its target strategies have borne results. Here is a list of places where you can pay with Dogecoin.
DOGEshop.
Strange Donuts.
Sarah Bake Shop.
Craftone hosting.
Life Sunglasses.
Nodex.
Super SeedBox.
Veloleo.it.
Bad Uzards.
God Creatures.
Can Dogecoin Grow to Become a Major Payment Network?
Yes, Dogecoin can become a major payment network. Though Dogecoin price has been sluggish to grow as others race well above the $1 mark and even reaching several hundred dollars, it appears that Dogecoin focus has managed to convince the market to accept its native coins for direct payment. Many payment processors as well as those utilizing the coin functionally want stability; a consideration that Dogecoin has demonstrated well over the years. Indeed, this is why some outlets actually left Dogecoin during the Artificial pump reported in December.
The network can grow into a major payment network because of its low transaction charges. Because it is cheaper than most financial institutions and even other top cryptocurrencies such as Bitcoin Cash, many traders prefer it for payment. Indeed, people are even converting other crypto coins to Dogecoin to enjoy the low transaction charges.
The Dogecoin development team has created a great marketing plan that is helping to draw more traders to the network. This is the reason for the fast-growing list of stores and traders accepting the cryptocurrency for payment.
How Does Dogecoin Work?
Dogecoin is a cryptocurrency that works like Bitcoin in many aspects. This means that the primary goal of the network is facilitating sending of value and securing users' digital assets/ investments. The goal is achieved through securing of transactions via PoW (Proof-of-Work) consensus model.
When a user initiates a transaction, it is immediately encrypted and taken over by miners. These are nodes spread in the network and help to confirm transactions. They follow back the public keys to confirm that the user has the coins he intends to use. If the user has ample coins and there is no double-spend, the transaction is confirmed and added to the next block.
Note that unlike other closely related cryptocurrencies such as Litecoin and Bitcoin that have a finite supply of coins, it is different with Dogecoins. Initially, Dogecoin was created to have a finite supply of 100 billion coins, the model was changed later to make the supply infinite. This means that more coins will be created to cater for those that get lost along the way.
Does Dogecoin Use Blockchain Technology?
Yes, Dogecoin uses blockchain technology. Blockchain is a public ledger that holds transaction details in a network. The Dogecoin blockchain is maintained and updated by miners. After a user initiates a transaction and it gets confirmed by miners, they add it to the next block before stacking it into the public ledger in a chronological order. Once this process is completed, the transactions are considered permanent; they cannot be erased nor reversed.
One of the most important features of Dogecoin blockchain technology is the mining difficulty. This is a special algorithm that is updated based on the total Dogecoin hashing power to ensure that new blocks are generated every minute. By adjusting the difficulty after every block, it means that miners cannot take advantage of the blocks they have just mined to march ahead of others to mine the later blocks. The mining reward at Dogecoin is a standard 10,000 DOGE after block 600,000. Here is a demonstration of the entire reward schedule.
Block 1 — 100,000: 0 - 1,000,000 Dogecoins (reward)
Block 100,001 — 200,000: 0 - 500,000 Dogecoins (reward)
Block 200,001 — 300,000: 0 - 250,000 Dogecoins (reward)
Block 300,001 — 400,000: 0 - 125,000 Dogecoins (reward)
Block 400,001 — 500,000: 0 - 62,500 Dogecoins (reward)
Block 500,001 — 600,000: 0 - 31,250 Dogecoins (reward)
Block 600,001+: 10,000 Dogecoins (reward)
Mining Dogecoin
Mining is the process of confirming transactions and securing a cryptocurrency network. The Dogecoin network also uses miners to release new coins into the network. The cryptocurrency uses PoW (Proof-of-Work) algorithm which means that you will need both time and energy to mine the coins. However, the development team realized that direct application of PoW as being taken advantage of by people with advanced mining equipments. This could risk the network with 51% attacks.
To address the problem, Dogecoin implemented AuxPoW and scrypt-based hash function. This implies that miners cannot mine Dogecoins using the ASIC devices. To mine DOGE, the best hardware to use is GPU (Graphics Processing Unit). Make sure to go for GPU with high hashing power to raise the profitability of your mining. You will also need the right mining software such as CGMiner.
You could also consider joining a mining pool to raise the chances of confirming more blocks and enjoying higher ROI. Remember to select the mining pool with a lot of care for assurance of coins flow and not falling into scammers.
What Are the Advantages of Dogecoin?
The performance of Dogecoin has made a lot of people to change their views about the cryptocurrency. Even those who had some doubts about the cryptocurrency are now running to it. Here are some of the advantages to expect at Dogecoin.
The Dogecoin network allows users to make transactions anonymously.
It is a great network to invest and use without worrying of third-party seizures.
The network has a very aggressive development team that is committed to progressively improve the network.
Though Dogecoin employs PoW (Proof-of-Work) algorithm, it has adjusted it to AuxPoW to reduce the threat of a few parties dominating the networks and lowering the risk of 51% attack.
The Dogecoin network has been performing very well in the market. Many people are optimistic that its time has reached and the value will continue growing progressively.
Unlike other very ambitious projects, Dogecoin scope of focus is relatively small; sending value. This has made it easy to progressively improve the network.
The network has been in the market for a longer period. This means that most of its features have been tested and proven to work.
What Are the Risks of Dogecoin?
While many people are fast to check the advantages of a cryptocurrency network, you will not arrive at the right decision without analyzing the negative side. Here are the main risks associated with Dogecoin.
The looming regulations are likely to be harsh and slow down the growth of Dogecoin and other cryptocurrencies.
Like other cryptocurrencies, users in the Dogecoin network should appreciate the danger of getting attacked by hackers.
Though Dogecoin is older compared to other newer cryptos, its price has lagged behind for many years. By the close of the first quarter of 2018, the value of Dogecoin was still well below $1 mark even after being in the market for more than four years. This is bad news especially for those targeting Dogecoin for speculation.
It association with a dog meme and later adoption of the tag joke coin has made some people refer to it as such; a joke.
The danger of new cryptocurrencies joining the market. Newer cryptocurrencies joining the market are coming with more advanced technologies. Unless Dogecoin works hard to add new features that put it at the front, it is likely yo lose the appeal to the new networks.
What Happens if Dogecoin Gets Lost?
Many people joining the Dogecoin network are optimistic that the native coins' price will keep growing and deliver high ROI. For others, the coins present a perfect opportunity to pounce on any opportunity that pops up in the market. However, it comes as a shock when one realizes that the coins have been lost.
One thing you need to appreciate at this point is that loss of Dogecoins is different from the loss of conventional fiat notes. While the fiat notes get lost through complete damage such as burning or even tearing down, things are completely different when it comes to digital assets. Even when you lose Dogecoins, they still remain in the network.
If you lose Dogecoin through sending to the wrong address, it means that they have changed hands. Note that the coins will still be in the network.
Losing Dogecoin through damage to the wallet means that they are still in the network but in a dormant state. In reality, the coins have not been lost because they are still under your name. However, you must get the right wallet to restore the coins.
If you lose Dogecoins through forgetting the private keys, it implies that they are still in the network but in a dormant state. The good thing about this type of loss is that you can easily regenerate the private keys using the seed.
If you lose Dogecoins through hacking, it means that they have changed hands and now have a new owner. Note that they are still in circulation but the transaction cannot be reversed.
Dogecoin Regulation
Since 2009 when Satoshi Nakamoto opened the first blockchain network, no government has been sitting pretty. Most administrations hold the view that cryptocurrencies are out to stabilize them and make governance impossible. Immediately after Bitcoin was launched in 2009, the Federal Bureau of Investigations (FBI) noted that cryptocurrencies risked becoming avenues for tax evasion and funding terror. Despite this, it is interesting to note that no country including the United States had passed a crypto related legal framework.
In the EU, the EU Commission warned that investors in cryptocurrencies such as Dogecoin, Bitcoin, Ripple, and others risked losing their investments because of high volatility. Because cryptocurrencies are peer2peer networks, their operations are direct. This implies they bypass centralized organizations such as banks. The ultimate implication is the danger of massive layoffs, shrinking of the centralized organizations, reduction of tax paid to the government, and ultimate collapse.
Some administrations have opted for direct gag orders to reduce the fast-growing popularity of cryptocurrencies. In China, the administration banned ICOs (Initial Coin Offerings) and even froze the bank accounts of exchanges that supported such offerings.
Some people have been asking one common question; why are different jurisdictions not passing legal frameworks yet the threats are evident? It appears that the process of installing a cryptocurrency framework is not as easy as many people might want. Here are some of the reasons standing in the way of comprehensive legal frameworks.
The cryptocurrencies are entering the market rather fast. This has made many jurisdictions to only play catch-up while others do not know where to start in crafting such legal frameworks.
Most cryptocurrencies such as Dogecoin are international networks without a specific owner or leader. This means that they buttress well outside individual states and regulating them locally might not deter their networks from burgeoning.
Cryptocurrencies have demonstrated the capability to help solve problems and issues such as Big Data affecting most administrations. Therefore, no administration is willing to put brakes on a technology creating solutions to its systems.
Cryptocurrency as a subject is becoming highly emotive. Because they provide users with an opportunity to send/ receive funds easily, cheaply, and give them opportunities for investments, they are becoming very popular. Now, administrations going against the cryptocurrencies are being taken to be against the popular will.
Though the legal frameworks might have taken so long, there is no doubt that they will finally dawn. Many nations are indeed at varying stages of installing legal frameworks to control cryptocurrencies. To know the legal status of Dogecoin, take a look at the next section.
Is Dogecoin Legal?
Yes, Dogecoin is legal in most countries. Even in the countries where Dogecoin and other cryptocurrencies are illegal, it is mainly done through direct orders as opposed to a clear legal framework. Here is a closer look at some of these jurisdictions to determine the status of Dogecoin.
Dogecoin is legal in the European Union. The EU is one jurisdiction that appears to lack a clear focus when it comes to cryptocurrency regulations. The top administration of the union has been giving mixed signals on the direction that should be followed. The EU Central Bank was the first to fire the salvo by indicating that cryptocurrencies were highly volatile and risked causing huge losses. It required the citizens to be extra cautious because the cryptocurrencies are highly volatile and could end up being hot bubbles.
However, the EU Parliament had a different view altogether. The legislative arm of the EU indicated that cryptocurrencies represented the apex of the fintech and could not be simply wished away. Instead, the parliament recommended comprehensive studies on cryptocurrencies such as Dogecoin before a legal framework to regulate them gets installed.
On its part, the commission leadership is in agreement with the EU Central bank that the threats from cryptocurrencies are too dire to be left unattended. The EU Commission Vice President, Valdis Dombrovskis, indicated that the risks associated with cryptocurrencies were clear. According to the commission, these dangers include price volatility, the risk of complete loss, security failures and massive liability gaps. The leadership of most countries including France, the UK, Germany and Austria supports the commission's stand and promise to put all efforts to help install regulations as fast as possible.
Dogecoin is legal in the United States. Though the United States was among the first jurisdictions to note the threats that come with cryptocurrencies, it was yet to install a legal framework by the close of the first quarter of 2018. The US has opted to take a global approach on cryptocurrency regulation.
On January 2018, the Treasury Deputy Director, Sigal Mandelker, traveled to China, Japan, and South Korea to try and forge a common position in creating global crypto laws. Speaking at a conference in Tokyo, Mandelker indicated that the United States strongly felt that a global approach was the best approach to tackle the looming threats from cryptocurrencies.
In a different event, the Secretary of the Treasury, Steven Mnuchin, said that cryptocurrencies had opened a new channel for money-laundering. He later told the World Economic Forum that there was a risk of cryptocurrencies becoming the next Swiss accounts if legal frameworks were not installed urgently.
With the country lacking a clear legal framework, the individual states have been left to work out local arrangements to deal with cryptocurrencies. The State of Arizona became the first to pass a cryptocurrency legal framework that allows residents to pay their taxes in cryptocurrencies. Under the law, when residents make a payment in cryptocurrencies such as Dogecoin, it is immediately converted into USD and recorded in their accounts. Other states planning for similar or slightly different laws include Georgia, Nevada, and Wyoming.
Dogecoin is legal in Russia. As most countries continue with the slow pace of crafting legal frameworks to guide the local application of cryptocurrencies, Russia has decided to forge ahead. Until the third quarter of 2017, Russia had indicated it had no intention of regulating cryptocurrencies. The administration cautioned users to be aware of the risks associated with cryptocurrencies.
Towards the end of 2017, the finance ministry indicated that there was a legal gap that made it impossible to tell whether those who accepted payments were committing criminal offenses since crypto coins are not legal tenders. To address the legal gap, the Russian Federation Central Bank and Finance Ministry went into an overdrive to craft a legal framework that would seal all the dangers of tax evasion, financing terrorism, fraud, and Ponzi schemes.
By the close of January 2018, the government released the draft Digital Financial Assets bill that focuses on all sections of cryptocurrencies. The bill recognizes digital assets as property and, therefore, not a legitimate method of payment in Russia. It goes ahead and puts a lot of weight on KYC (Know Your Customer) regulations to help with customer identification and fraud prevention.
The draft law further outlines mining as a method of producing property (tokens such as Dogecoin). Therefore, miners are required to be registered entities because they will be involved in generating a property. The entities that want to issue ICOs are also required to go through rigorous verification before their tokens are availed for sale. This implies that mining will not be as easy as it is today if the draft becomes law.
Note that the law has attracted a lot of resistance from the fintech in the country. Crypto networks are reported to be shifting their servers from the country and positioning them in countries that are crypto neutral. It will be interesting to watch how everything plays out if the draft is finally signed into law.
As other countries work on crafting legal framework, Venezuela has opted for a very interesting approach; developing a national blockchain. The country created its own blockchain but outlawed other types of crypto networks from its jurisdiction. However, a closer look at the country's system reveals that the local blockchain is not inspired by an inherent passion for cryptographic solutions.
For years, the Venezuelan regime has been accused of massive abuse for human rights. The country is regularly rocked by violent demonstrations as protesters call for regime change. The local blockchain was meant to take advantage of the anonymity in blockchains to help the country sell its petroleum. Because transactions are anonymous, other countries and companies can now pay for oil and get it delivered from Venezuela without worrying of getting napped for not recognizing the sanctions set against the country.
While other countries are fast to cite the threats that come with cryptocurrencies, Switzerland is seeing opportunities. The country's administration indicates that it will spare no effort in making Switzerland the home of cryptocurrencies. Speaking to press in January 2018, the Economics Minister, Johann Schneider-Ammann, said that they want to make the country a crypto nation.
Johann indicated that he had already constituted an ICO working group under the Swiss Federal Council to look at cryptocurrencies and come-up with a tech-neutral legal framework. The group is expected to provide its recommendations by the close of the year. One thing that crypto enthusiasts should appreciate is that even if other nations craft harsh regulations, Switzerland will always be a home for them.
Dogecoin and Taxes
The topic of cryptocurrencies and taxes is a murky one. Because Dogecoin is an anonymous network, many people in the network hold the view that they can work without getting noted by tax authorities. Indeed, this view is one of the primary causes of the current zeal to pass very harsh crypto regulations. Most administrations hold the view that cryptocurrencies are out to cripple their ability to pay taxes.
In the United States, most of the people in cryptocurrencies do not pay taxes. Credit Karma reported that less than 0.04% reported gains from cryptocurrencies despite the large crypto population. But it is not just the United States. The EU Commission has indicated that one of the primary reasons for its current effort to install cryptocurrency regulations is to prevent the blockchain networks becoming avenues for tax avoidance.
To shed more light on taxes and cryptocurrencies, tax professionals have weighed on the topic. They argue that though cryptocurrencies such as Dogecoin might be providing total anonymity, the same status cannot last forever. As more technology gets discovered, accessing the details of every transaction will be as easy as clicking a mouse. For example, Bitcoin is no longer as anonymous as it was thought to be immediately after discovery. Therefore, do not fail to pay taxes and risk numerous tax-related lawsuits in the coming years.
Note that saying you meet all the tax dues does not in any way indicate that you should give up the benefits that come from Dogecoins. Here are some tips on how to remain tax compliant while enjoying all the benefits that come with Dogecoin.
Consider income from Dogecoin related trading as taxable revenue.
Make sure to capture both profit and losses in Dogecoin trading when filing returns.
Always take notes of important details such as traded volume, transaction dates, price, and Dogecoin value in local fiat.
Restructure the books of accounts to make capturing payment in Dogecoins at your shop easy, direct, and accurate.
Do not hesitate to work with a tax expert if you find it difficult to factor Dogecoin related transactions in the books. It is also important to work with experts for better accounting especially of your store accepts payment in multiple cryptocurrencies.
Does Dogecoin Have a Consumer Protection?
Dogecoin does not have consumer protection. The cryptocurrency operates as a decentralized and peer2peer network which implies that the network is not owned by any single individual. When the founders released the mainnet, they ceased being the custodians. Instead, the network belongs to the users spread in its network across the globe.
The closest that Dogecoin comes to having some sort of protection arrangement is the Dogecoin Foundation. However, even with the foundation, you cannot make a direct complaint because it is run as a non-profit organization. This implies that its relation to the Dogecoin is purely promotional and does not have anything to do directly with Dogecoin development team.
Because Dogecoin lacks a clear consumer protection model, it implies that you are indeed on your own. If you lose Dogecoins or have another complaint, there is nowhere to complain to. Things are even worse because cryptocurrencies are not regulated. This means that you cannot even run to a court of law. The only way to operate safely on the network is taking the following precautions.
Make sure to keep your private keys and seed as safely as possible (preferably away from the main computer).
Make sure to comprehensively research the exchangers to participate in so that you only use the most secure.
Make sure to store the bulk of your Dogecoins as safely as possible. You could consider splitting the total coins into two; put one section for regular trading in common wallets and another section in a cold storage such as hardware wallet.
Make sure to backup everything including the wallets, private keys, the seed, and client among others.
Do not visit risky sites on the same computer you use for Dogecoin transactions. Where possible, it is advisable to designate one computer for Dogecoin transactions only.
Ensure that your devices are protected well and up to date. To avoid missing updates for both the computer and Dogecoin, set the system to auto-update.
Illegal Activities with Dogecoin
When cryptographic solutions debuted, they became attractive networks for criminals. Criminals prefer the cryptocurrencies because they can operate anonymously without risking getting discovered by third parties. However, no illegal activity had been reported with Dogecoin by the close of the first quarter of 2018.
Is Dogecoin Secure?
Yes, Dogecoin is a secure cryptocurrency network. Though the face of the cryptocurrency is a joke, the development team has been very active in enhancing the security of the network. To guarantee users of utmost security when operating in the network, here are some of the tactics employed.
Redefining the PoW (Proof-of-Work) mining algorithm with AuxPoW that helps to reduce the risk of 51% attack.
The development team is progressively reviewing the gaps and sealing them to reduce the risk of attackers utilizing such gaps.
Is Dogecoin Anonymous?
Yes, Dogecoin is an anonymous network. Like other blockchain networks, Dogecoin employs advanced encryption to ensure that users can operate without worrying about getting discovered or third party seizures. When you join the Dogecoin network, the personal account and even transaction details are encrypted so that even miners cannot uncover the users.
Has Dogecoin Ever Been Hacked?
Dogecoin has never been hacked. However, its external services, online wallets referred as InstaDoge.net and DogeWallet were hacked in 2013. The hackers broke into the external back-end and ripped Dogecoin millions of coins. The hacker got access to the wallets and modified the send/receive page so that most of the coins were directed to a static address. The Dogecoin community later raised the coins and refunded those who had lost theirs.
How Can I Restore Dogecoin?
If you lost Dogecoins, all might not be lost. Depending on the nature of loss, it might be possible to restore the coins. If you lost the coins through damage to the Dogecoin wallet, restoring them can be done with a backup.
For people who lost their Dogecoins by forgetting the private keys, restoration is only possible by regenerating the keys using the seed phrase. This is one of the top codes that were generated by the Dogecoin wallet when you first used it.
NOTE: There is no method that can be used to restore Dogecoin is the loss happened through hacking or sending to the wrong address. The loss is considered as completed transactions and captured in the public ledger.
Why Do People Trust Dogecoin?
As more cryptocurrencies enter the market, the competition is fast shifting to trust. People are concerned about their assets' safety and expected ROI. Dogecoin is one of the networks that are fast winning the trust of the people because of four things.
The network is easy to use and fun to associate with. The association between the network and community is making people work on protecting and advancing the network. For example, they donated their coins to refund those who lost after hacking of 2013.
Dogecoin development team has been very steady in its work. It has committed itself to progressively improving the network and keeping it as secure as possible.
The market has appreciated the gem that is Dogecoin making it native coin to be accepted in most stores for direct payment. This is one of the primary drivers supporting steady Dogecoin value shift.
The cryptocurrency is marketed as a better option compared to other purely PoW (proof of work) cryptocurrencies. More stores out there have also appreciated and are now accepting payment in DOGE.
History of Dogecoin
Dogecoin was introduced in 2013 and went by the name joke currency. It was intended to make people see the entire cryptocurrency as fun. The initial idea of Dogecoin was to introduce 100 billion Dogecoins. However, it later changed to infinite Dogecoins.
The genesis 0 block was released on 6th December 2013 and the main announcement made two days later on 8th December 2013.
On 19th December of 2013, Dogecoin price rose with 300% to $0.00095. Note that this was a time when Bitcoin was experiencing a serious slump because Chinese banks were being barred from investing in Bitcoins. However, the price crashed with more than 80% as it emerged that large mining pools were taking advantage of the new and easy to mine Dogecoins.
On 25th December 2013, Dogecoin wallets Dogewallet and InstaDoge.net were attacked and millions of coins stolen. The attacker took advantage of the loophole on the wallets that made it possible to modify the send/receive page and siphon coins to a static address. Interestingly, the Dogecoin Twitter community through an initiative, SaveDogecoin raised and refunded all those who had lost their coins through the attack.
Early in 2014, the Dogecoin community ran a successful fundraiser for the Jamaican Bobsled Team that had qualified but could raise ample funds to travel to the Sochi Winter Olympics. Later in March of the same year, the community raised another $55,000 to sponsor NASCAR driver, Josh Wise. Wise ran a paint scheme sponsored by Dogecoin/Reddit at the famous car racing competition referred to as Aaron's 499 at the Taladega Superspeedway.
In January 2014, the volume of traded Dogecoin grew steadily and surpassed that of Bitcoin. The market capitalization of the cryptocurrency on 25th January 2015 hit $13.5 million. By January 2018, it hit the $2 billion mark.
Who Created Dogecoin?
Dogecoin was created by a programmer called Billy Markus. He is an Oregonian who wanted to come up with a cryptocurrency that was fun and that could extend beyond the reach of Bitcoin. At a time when most coins were marred with a lot of suspicion, Markus wanted to have a coin that more people could associate to and have fun. During the early days of the cryptocurrency, Markus got support from Jackson Palmer, an Australian member of the Adobe Systems. However, Jackson Palmer left Dogecoin in 2015.
Dogecoin Videos and Tutorials
Interview: Dogecoin Devs
How Dogecoin Works?
Dogecoin Music Video
See Also