Stratis
From WikiCryptoCoins
Stratis cryptocurrency guide advises where to buy and how to buy Stratis. This guide also contains the markets, value, trading, investing, buying, selling, transactions, blockchain, mining, technology, advantages, risks, history, legislation, regulation, security, payment, networks and many other interesting facts about Stratis as well its status in the world of cryptocurrencies.
Stratis, Tuesday, 2018-08-14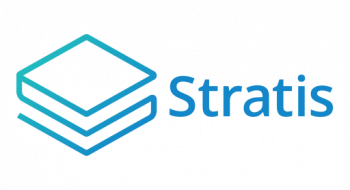 What Is Stratis?
Stratis is a blockchain-based cryptocurrency created to help simplify the development, testing, and deployment of applications for enterprises in the finance sector that target to enjoy advantages of blockchain technology. It operates as a Blockchain-as-a-Service (BaaS) platform to help enterprises craft their own blockchains (side chains) with the features they need. This makes the development process simpler and further helps to hasten the blockchain projects' development lifecycle.
Organizations can take advantage of Stratis blockchain by launching their individual chains without having to incur the numerous costs and complications associated with designing and running individual network infrastructure. Like in the Waves or Ethereum cryptocurrencies, individual organizations are also free to take advantage of the existing Stratis features.
Once you decide to join the Stratis platform and run side-chains, you are required to use the native currency on the network referred as STRAT. The side chains are premised on the Stratis core code that allows communication between the two.
Stratis is developed on C# Stratis Bitcoin full node framework that is created over the NBitcoin library. In technical terms, it is a near complete port of Bitcoin Core that is created using C# and Microsoft's .NET framework. Because NBitcoin was designed using C# and it further employs .NET framework, developers find it easier to maintain when compared to the traditional Bitcoin Core source code that was created in C++.
A closer look at the Stratis system gives it a lot of resemblance to the Lisk cryptocurrency. However, Lisk is marketed as a people's coin where any person can download the blockchain and develop it for free. Stratis on the other hand is marketed as a tool for financial organizations and businesses.
Beginner's Guide to Stratis
Which is the best cryptocurrency network to join today? This is one question that keeps running in people's minds when they decide to join the crypto industry. One cryptocurrency that appears highly potential is Stratis. The cryptocurrency has been performing very well and the community is highly optimistic about its future potential.
What makes Stratis even more unique is its architecture and operational model. Unlike other cryptocurrencies, Stratis operates as Blockchain-as-a-Service (BaaS) platform. This means that it targets to help other companies join and become part of the cryptocurrency community. This has seen it draw huge interest from large corporations that want some advice on joining the crypto industry, run side-chains, or accelerate growth via cryptographic solutions.
Though Stratis appears to be highly potential, do not simply jump into it. You need to carry a comprehensive review on it before making your decision. This is why this guide was created. It is a complete review of the Stratis platform to help answer all the questions and doubts you might have about it.
From the technology used at Stratis to its markets, you are sure of getting all the answers in this guide. Welcome to the guide and learn everything you want to know about Stratis.
Where and How to Buy Stratis?
The architecture of Stratis makes it one of the most attractive crypto assets out there. Between August of 2016 and April 30th of 2017, the price of Stratis rose more than 5000%. This growth has made a lot of people, including some experts indicate that it could be the next big thing in the crypto industry. To be part of this growth, you need to own some STRATs. There are two main ways of buying STRAT. You can buy directly from those who have them or from the exchanges.
Buy from cryptocurrency exchanges: This is the primary location where people buy cryptocurrencies. The exchanges are the markets that facilitate trading of crypto assets based on market forces of demand and supply. The main exchanges where you can buy STRAT include Binance, Bittrex and ShapeShift.
To buy from the exchanges, you are required to open a trading account and verify it with personal details such as phone number or proof of location. The verification is a local requirement because unlike the crypto networks that are not regulated, the exchanges follow local laws. Not that the verification info could differ depending on individual exchanges.
Buy from people who already have Stratis coins: For people who do not want to follow the lengthy route of trading exchanges, a better option is identifying those who already have the coins and willing to trade them. How can you do this? Because of the fast-rising popularity of cryptocurrencies, users are organizing crypto clubs that help them come together and share information. Though the clubs are not primarily designed for trading cryptocurrencies, they have become important meeting points where people willing to sell STRAT or other cryptos can meet.
The good thing about these clubs is that you are not bound by any rules. Besides, you can agree on any method of payment including cash, credit cards, and hard assets. However, it might take a long time before getting a person who wants to sell the exact number of STRAT that you intend to buy.
Stratis Wallet
Are you new to Stratis network or cryptocurrencies? One thing you must have to operate effectively is a digital wallet. A digital wallet is a location for holding tokens and other digital assets. However, this definition is a misnomer. The Stratis native coins, STRAT, only exist in the native Stratis network. Because they cannot live outside the network; what exactly does a Stratis wallet store?
Stratis wallets are digital locations designed to store three sets of codes. First, they store private keys that are used to point at your coins in the wallet. The private keys call your STRAT to live when making transactions such a sending value or making payment. The private keys should NEVER be shared with third parties.
The other code generated and stored in the wallet is the public keys. These are codes that help to identify you in the Stratis network. The public keys, like the name suggests, are public and can be shared with those who want to pay you in STRAT.
The last code generated by the wallet is the seed phrase. The seed is a unique code used to regenerate the private keys in case of a loss. It is very important that the private keys and the seed are stored safely and away from the main computer. This will make it easier to recover the wallet and STRAT in the case of a loss.
Digital wallets come in different forms. You can opt for desktop wallets that are downloaded and installed on your computer, a mobile wallet, or web-based wallet. The following are the top wallets for you to consider when looking for a Stratis wallet.
StratisX wallet (Desktop wallet): This is a lightweight wallet that allows users to access the Stratis blockchain without downloading the entire blockchain. The wallet allows the user to stake the Stratis tokens.
Stratis Electrum wallet (Desktop wallet): This is another light-weight wallet that does not need downloading the entire blockchain. Note that the wallet does not allow staking of Stratis tokens.
Ledger Nano S (Hardware wallet): This is one of the leading cryptocurrency wallets out there because of unique security features. The wallet is considered among the most secure options out there. It supports multiple assets and stores your STRAT offline.
Breeze wallet: This was one of the most waited cryptocurrency wallet by the Bitcoin community. The Breeze wallet was designed by the Stratis development team to enhance the privacy of the users but can also be used with Bitcoin. It employs coin shuffling and swapping feature that makes efforts to unmask users very difficult. The technology employs TumbleBit to make sure that no trail that can be used by third parties to identify you.
Where to Buy Stratis with Credit Card?
Credit cards are the most used methods of payment in the market today. People prefer them because they are accepted in both conventional and online marketplaces. Today, you can also buy some cryptocurrencies with credit cards at Cryptopia and Livecoin.
Where to Buy Stratis with PayPal?
There is no way to directly buy Stratis with PayPal. You can only withdraw the funds to a credit card or bank account because they are accepted in some of the exchanges that list Stratis.
How to Buy Stratis with Wire Transfer?
If you have cash in a bank and want to buy Stratis, it is possible to complete the transaction directly. Here is the procedure.
Open a Stratis wallet that will hold the STRAT after the transaction is completed.
Open a bank account and deposit ample cash to buy the Stratis coins you want. Make sure to factor the cost of transactions.
Select a cryptocurrency exchange that allows users to trade STRAT. Then, open a trading account and verify it. Note that the verification requirements might differ depending on the selected exchange.
On the trading account's dashboard, select buy crypto assets and tick Stratis. Then, tick pay with a wire transfer. You will be prompted to enter the bank details and confirm them.
The transaction will remain pending for about 2-3 days until the cash hits the exchange's account. Note that when the purchase is over, the STRAT will go to the trading account. Therefore, withdraw it to your Stratis account for extra security and control.
Where to Sell and Trade Stratis?
Starting from 2009 when Satoshi Nakamoto opened the lid of cryptocurrencies, the race has been on. But it is not only the cryptocurrencies that have been increasing in numbers. The trading and selling platforms have continued to increase as crypto assets become more popular. The primary trading platforms for crypto assets such as STRAT are the cryptocurrency exchanges. These are exchanges designed to help people sell their cryptocurrencies for other assets or others looking forward to buy. But before you can join or start trading in a specific exchange, it is important to appreciate that they are an easy target for hackers.
Over 80% of the attacks reported in the cryptocurrency networks take place in the exchanges. In January of 2018, a Japanese cryptocurrency exchange called Coincheck was attacked by hackers and $525 million siphoned away. A month earlier, December 2017, a South Korean exchange referred as YouBit was attacked and millions of digital assets siphoned away. The exchange was forced to file for bankruptcy. Other exchanges attacked and millions worth of crypto assets include Bitfinex and Mt. Gox.
The huge threat hovering over Stratis trading and selling platforms means that you need to be extra careful when joining them. The aim should be selecting a trading and selling platform that makes trading easy, direct, profitable, and secure. Here are some tips to help you pick the best.
Check for the trading platform that does not have a hacking history. If its operations are desirable but it has a hacking history, evaluate whether the problems that made it get hacked in the first place have been addressed comprehensively.
Pick the exchange with an easy to use UI (User Interface) and responsive customer support. This will guarantee you that issues that may arise when trading on the platform will be addressed promptly.
Look for the exchange that has been in operation for some time and won the affection of the crypto community. By looking at what the community has to say, you can easily pick a platform with higher chances of delivering good results.
Only use the platform with low transaction fees. Low transactions imply that you will be able to keep the bulk of the profits as opposed to having them gulped by the exchange. Note that this factor should be considered alongside other factors to narrow down to a great platform.
The best platform should allow users to move their STRAT to their wallets immediately after trading. This is very important in reducing the high risk of loss at the exchanges.
Note that trading cryptocurrencies such as STRAT will require you to have a digital wallet for holding the native coins. You will also need to open trading accounts in the selected exchanges. Good examples of these exchanges include Binance, Cryptopia, Poloniex, and Livecoin.
How Much Are the Transaction Fees of Stratis?
The transaction charges at the network are not standard. The charges depend on the nature of transactions. However, the charges are relatively lower compared to Bitcoin, Bitcoin Cash, and even Ethereum.
Stratis Markets
Cryptocurrencies are in many ways like the standard fiat currencies. They can be used to transfer value, make payments, and even holding. Though they are not legal tenders, they can still be traded in the exchanges. While fiat currencies are traded in the forex markets, the cryptocurrencies are traded in the cryptocurrency exchanges. These are markets designed to bring together buyers and traders so that price of individual cryptos is driven solely by demand and supply. If you have been in the Stratis network for some time or have bought some native STRAT, consider trading them in the following markets.
1) Binance
This is a Hong Kong-based cryptocurrency market started in mid-2017 by Changpeng Zhao. Zhao wanted to create a platform that could make trading in cryptocurrencies easy, direct, and affordable. To achieve these objectives, the cryptocurrency also features a native Binance Coin referred as BNB. It is important to note that Binance was formed at a time China was striking exchanges with restrictions because of perceived threats from cryptocurrency proliferation. This made Binance move its servers in multiple locations to facilitate access by more people across the globe.
Binance is a crypto-to-crypto trading platform. This implies that you can only trade Stratis for cryptocurrencies such as Bitcoin, Ripple, and Ethereum among others listed in the platform. If you have funds in cash or credit card, you cannot trade directly on Binance platform. Simply buy another coin from a different platform such as CEX.io and move them to Binance to buy STRAT.
The biggest selling point of Binance is the low transaction fee. Unlike other exchanges such as Bittrex that charge up to 0.2%, Binance only charges 0.1%. But you can pull this further down by 50% if you pay the transaction fee with BNB. This means that you will only pay 0.05% to trade in the exchange; one of the cheapest in the industry.
To ensure that you will always have a profitable option to jump to if the one you are working on turns out to be undesirable, Binance lists very many trading assets. Besides, they have an easy to use platform, responsive support, and multi-lingual features. These are some of the top features making Binance's popularity to grow very fast.
2) Bittrex
This is a US based cryptocurrency trading market started in 2014 by Bill Shihara, Richie Lei, and Ryan Hentz. Recently, Bittrex popularity has surged mainly because of its founding team that comprises of security experts. Like Binance, Bittrex is architecture to make trading fast, simple, reliable, and secure. Having stood up since 2014, Bittrex has demonstrated that it can be trusted by traders to secure their digital assets.
One notable thing about Bittrex is its strong emphasis on operating within the federal and state regulations. This means that just like people who trade in forex markets, traders joining the Bittrex markets have to verify their accounts with government recognized details such as date of birth and phone number. Note that though Bittrex requires all the details from traders, signing up for a trading account is direct and will take only 30 minutes.
One great thing about Bittrex is its extra scrutiny of all the cryptocurrencies listed in the market. Unlike other exchanges such as KuCoin and Cryptopia that rush to list every new asset out there, the Bittrex team comprehensively reviews all tokens before listing them. For example, Bitcoin Diamond was put under review to assess the involved risk even though other top markets such as KuCoin listed it immediately after forking from Bitcoin.
Bittrex lists over 250 altcoins. This implies that the market has numerous opportunities for people to trade against Stratis. Whether you prefer the more established crypto coins such as Bitcoin and Ripple or emerging assets, you are sure of getting the perfect options at the exchange.
The transaction fee at the Bittrex exchange is 0.25%. Though the Bittrex development team insists that the fee is okay, the cryptocurrency community feels that it is on the higher side. The exchange would do well by pulling down the cost to the levels charged by other markets such as Binance.
The biggest challenge for operating at Bittrex exchange is its poor customer support. Many people have taken to the social media to complain that when they lodge a complaint about their accounts, it takes a very long time to be addressed. The delays mean you could easily miss a great trading opportunity or incur hefty losses.
3) Cryptopia
This is another innovative cryptocurrency market that was started in 2014 by Rob Dawson and Clark Adam. The focus of starting and running the exchange was to ensure that users can enjoy many digital assets and extended functionalities. If you are based in New Zealand, Cryptopia allows users to make deposits and withdrawals in local fiat currency, New Zealand Dollars. Note that making a deposit or withdrawal in fiat requires placing a request.
Unlike Bittrex, Cryptopia is fast to pick new trading assets and listing them for traders to buy. This means that you will never miss a new token being offered through an ICO. Note that this can be a highly risky consideration because some tokens offered through ICOs end up being scams. Therefore, make sure to also carry due diligence on the ICO before investing in a new token. In total, the exchange lists over 400 tradable assets.
One notable thing about Cryptopia is that it does not declare the trading fees. However, trading at the exchange shows that they charge 0.2%. This is still relatively high compared to other exchanges that are charging lower than 0.1%.
When you join the exchange, it provides additional functionalities such as a ready marketplace. This feature allows users to buy and sell items they want and get paid in cryptocurrencies. Consider it like a type of "crypto-based marketplace."
Value of Stratis
Stratis value has continued to grow progressively as more people take note of its unique features. In the beginning of June 2018, the value of the Stratis market capitalization was more than $400 million at a price of around $4 USD. This places it above other top cryptocurrencies including Waves and Dogecoin. The highest peak in Stratis value happened in January 2018 with a market cap of $2.1 billion at a price of above $21 USD. Comparing the early days to the highest peak, the growth of the Stratis price was amazing 150,000%.
Is It Profitable to Invest in Stratis?
When people join cryptocurrencies, the target is enjoying a huge return on investment. Now that Stratis is being marketed as the better option compared to Bitcoin in terms of scalability, block time, and even speed, the expectations from those joining the network are so high. Here are some of the indicators that Stratis will be a highly profitable cryptocurrency.
If you use a staking wallet, you will be rewarded with STRAT for simply holding the coins.
The cryptocurrency has become an attraction especially to payment institutions that can easily use the Stratis network or design side-chains to make payment easier and direct.
The price of Stratis has been growing steadily over time. In about one year, between April of 2017 and June of 2018, the price has grown 1000% from $0.4 to $4.4. This could be an indicator of the Stratis network's high potential.
Where to Spend or Use Stratis?
The primary target of cryptocurrencies is becoming major payment networks. On this end, the Stratis network has been lagging behind. Today, no store has come out to indicate that it would accept direct payment in Stratis. Therefore, if you want to pay in Stratis, the first step should be converting STRAT to the accepted token such as Bitcoin or Ethereum.
Can Stratis Grow to Become a Major Payment Network?
Yes, Stratis can grow into a major payment network. The design of Stratis was carefully thought about to ensure that it facilitates easy growth into a major payment network. Stratis can easily grow into a major payment network because many companies are not seeing it as a threat. Rather, they see it as a partner they can join hands with to grow together using its primary network, developing sidechains, or employing smart contracts.
However, success in becoming a major payment network will depend on the Stratis' capability to operate securely and demonstrating value to users. Besides, the looming regulations will also have a huge bearing on the ability of Stratis to become a major payment network.
How Does Stratis Work?
Stratis is a Blockchain-as-a-Service platform that is primarily aimed at facilitating the development of blockchain type of applications. The platform hosts blockchains attached to the network via the cloud. Therefore, users do not need to maintain full client node to access their blockchains. The Stratis platform works using the following features.
The Stratis private chains: Every blockchain that users deploy on the Stratis network is a private side-chain. These chains allow users to customize their operations and take advantages of the secure infrastructure provided by the parent chain. Note that you are free to make changes to the sidechains without affecting other chains.
Fiat gateway integration: This is a feature aimed at ensuring businesses can easily transfer fiat currencies. Stratis targets to allow organizations, especially financial institutions, to employ blockchain for transferring fiat currencies without subjecting them to high volatility. This is done through tokens of value issued on the side chain, or the primary native token, STRAT.
Decentralized app hosting: In addition to providing integrated services on its blockchain, Stratis also specializes in hosting and consultancy to enterprises that want to run decentralized applications. This is done through the Stratis and blockchain consultancy. This provides a complete off-the-peg approach to implementation of smart contracts.
Stratis works closely with individual enterprises to help them determine individual needs prior to deployment of nodes if needed and even organizing for their hosting. What this implies is that clients can focus on creating decentralized applications without wasting resources and time on the infrastructure.
The Bitcoin, Ethereum, Lisk node provisioning: Node provisioning by Stratis will not only be available to Stratis private chains. Rather, Stratis works on enabling one-click provisioning on other top blockchains especially Bitcoin, Lisk, and Ethereum. What this implies is that if an organization wants to test various functionalities in these additional platforms, they are free to do so effectively and promptly. For example, the Ethereum's smart contracts and WAVES DEX (Decentralized exchange) provide functionalities not provided by Stratis. However, these functionalities can be employed together with Stratis. Now, Stratis consultancy will help to establish how these functionalities can be employed, required software and even provisioning nodes if needed.
Does Stratis Use Blockchain Technology?
Yes, Stratis uses blockchain technology. The platform is built on the Bitcoin Full node using NBitcoin library, Microsoft .NET, and C#. The Stratis blockchain operates using three primary components.
The Stratis full node: This node is used to help interaction with node policy layer, an infrastructure layer, and the interface layer. Note that the node is in-charge of the user interface, verifying transactions, and APIs.
The LibConsensus: This is used in the blockchain to establish valid blocks.
The NBitcoin: This helps to facilitate communication between the Stratis nodes in the Stratis Network layer.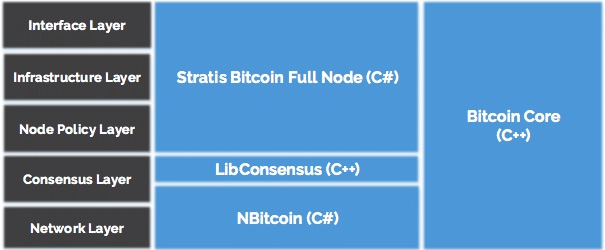 Mining Stratis
There is no mining in the Stratis network. The Stratis system employs Proof-of-Stake consensus model that does not support mining. The PoS model used at Stratis helps to distribute STRAT though a reward system called staking. Therefore, all that you need is opening a StratisX wallet and keeping the computer connected to the internet to get rewarded with STRAT.
What Are the Advantages of Stratis?
When many people think of joining cryptocurrencies, they are interested in enjoying every benefit espoused in the architecture. Here are some of the benefits to anticipate when you join the Stratis network.
Stratis employs advanced TumbleBit technology that shuffles the Stratis coins in the network to ensure that no one can identify you. This implies that you can send value and run transactions without worrying about getting discovered by third parties.
Stratis provides users with a fast and affordable option of sending value. Though the charges of transactions vary depending on the nature of transactions, the figure is still very small compared to what Ethereum and Bitcoin Cash charge.
Transactions on the Stratis network are completed very fast. The average transaction speed at Stratis network is 6 minutes. Though this is still slow compared to others such as Dogecoin that has average transaction time of one minute or Steem with only 3 seconds, it is by far better than Litecoin that takes 60 minutes or Bitcoin and Bitcoin Cash that takes even longer.
Stratis provides users with an opportunity to run their own token as side-chains. This implies that you no longer have to keep wondering about the tech used to release tokens. The ground has been covered for you so that making tokens and issuing them is easy and direct.
Stratis has demonstrated the huge potential for growth. Over the years, the cryptocurrency community has discovered that what most cryptocurrencies are offering today was already available at Stratis. This realization has been instrumental in facilitating faster growth of the Stratis community.
Though Stratis provides a great option for sending funds without relying on third parties, its architecture makes these third parties see it as a partner. Instead of using the Stratis network as nodes, they can also form side-chains and even issue their own tokens.
The Stratis community has been growing very fast. A lot of people are seeing the gem that is Stratis and believe that its value will continue growing and even surpass other more valuable cryptocurrencies.
Stratis is created with structures that aim at helping new organizations run their blockchains successfully. This means that once you decide to use the side-chains, Stratis experts do not leave you. Rather, they stick with you to using the Stratis Consultancy and Blockchain consultancy to ensure that your ventures succeed.
What Are the Risks of Stratis?
While joining and using Stratis comes with many advantages, it is very important to appreciate the involved risks. This means that you will need to get the right to use Stratis, developers are required to pay. This is very different from other cryptocurrencies such as Lisk that is free and others that pay their developers to create good applications. This implies that you will need to first invest in the cryptocurrency to become a developer.
The main target of Stratis is the financial entities. Though this might be a strategic approach to gaining faster acceptance as a payment network, it makes individual developers and users to feel left out.
As a cryptocurrency network, the risk of loss always looms. You could easily lose STRAT through sending to the wrong address or hacking of the network. Such attacks can happen at the network or even wallet levels.
The looming regulations. Because most administrations feel threatened by cryptocurrencies, they have threatened to pass harsh regulations. For example, Russia has already crafted a draft bill that targets to limit those who can trade and mine cryptocurrencies. With more states saying they are on track to craft crypto regulations, Stratis and other cryptocurrencies could easily get into a decline or even collapse.
The danger of newer and more advanced cryptocurrencies entering the market. Just like Stratis was created to address the shortcomings of other cryptocurrencies; newer networks are also likely to enter and make Stratis less appealing.
What Happens if Stratis Gets Lost?
Reports of people losing their Stratis and other cryptocurrencies have become way too common. The losses can take place at the network level or even wallet levels. Besides, your STRAT will also be lost if you send the tokens to the wrong address. However, what happens when you lose STRAT?
One thing you need to get clear at this point is that the native STRAT coins do not leave the native network even when lost. This means that the identity can change but they will always be on the native network. To understand what happens when Stratis gets lost, it is better to follow the channels of loss.
Loss through sending to the wrong address: The Stratis will still be in the network but under a different identity. The coins are freely moved in circulation and can be traded in the exchanges.
Loss through hacking: The Stratis tokens will still be in the network under a different owner. The hacking is seen as a completed transaction that has already been added to the public ledger.
Loss through damage to the wallet or forgetting the private keys: When you lose Stratis through this method, it means that they are still in the network under your name. However, they will be in a dormant state and, therefore, away from circulation.
Stratis Regulation
The subject of cryptocurrency regulation has become a bitter thorn in the flesh of many administrations. Since Satoshi Nakamoto released Bitcoin, no administration has been sitting pretty. The administrations feel that cryptocurrencies such as Stratis are out to sabotage their operations. To be more specific, one might ask; how exactly do cryptocurrencies threaten administrations?
When Bitcoin was released, the Federal Bureau of Investigations was the first to note the threats that come with its applications. The bureau noted that the anonymity espoused in most cryptocurrencies could easily provide the gateway to fraudsters, criminals, and even terrorists. But it is the following three threats that appear to irk governments the most.
Creating an avenue for people to operate without paying taxes. Many people believe that because cryptocurrencies allow them to operate in privacy, they can live tax-free lifestyles.
Creating an alternative and cheaper method of sending value without going through the conventional bank systems. This implies that banks and other financial institutions are at a risk of shrinking and even collapsing at some point.
Because of the expected huge benefits, the investment landscape is changing. Many people are running to cryptocurrencies such as Stratis that promise huge returns and shunning conventional options.
Despite these threats that most administrations indicate are serious threats, none of them had installed a clear legal framework by the close of the first quarter of 2018. Some like China have preferred to use direct orders to gag the progress of cryptocurrencies. The Chinese administration started by banning all ICOs and freezing accounts of crypto exchanges that supported such initial coin offerings. Venezuela, on the other hand, opted for to craft a national blockchain. However, it criminalized development or use of other cryptocurrencies.
From the United States to Japan, every country appears dedicated to crafting a legal framework to guide cryptocurrencies. Now, it is turning out that creating and implementing a legal framework is not as simple as many would want it to be. Here are some things making it almost impossible to craft new regulations.
Unlike the banks and organizations that have clear ownership, cryptocurrencies are owned by users spread in the network across the globe. This means that administrations do not have specific entity or person to target with cryptocurrencies.
The blockchain technology caught most of the governments unaware and they have to play catch-up when it comes to cryptocurrencies. This has turned out to be a tall order with some administrations not knowing where to start.
Cryptocurrencies have demonstrated the capacity to address major problems that have been facing organizations and administrations such as big data. This implies that though governments are intending to pass regulations, none want to become an obstacle to these new solutions.
The cryptocurrency debate is slowly molting into a political debate. Because cryptocurrencies have provided a better and cheaper method of sending funds on a peer to peer basis, a lot of people prefer them. Now, administrations that target limiting cryptos are seen to be going against the people's preference.
Though most administrations have taken long to come-up with crypto regulations, there is no doubt that these frameworks will finally dawn. Indeed, most of them are at different stages of passing legal frameworks. For example, Russia has already crafted a draft digital asset finance bill that will go to parliament for debate before becoming law. To know the legal status of Stratis, continue reading through the next section.
Is Stratis Legal?
By the close of the first quarter of 2018, no country had passed a clear legal framework to regulate Stratis and other cryptocurrencies. While most administrations agree that the risks are indeed enormous, the route to come up with clear legal framework appears lengthy and bumpy. Here are some of the nations and the legal status of Stratis.
1) The United States
By the close of the first quarter of 2018, the United States did not have a coherent stand on the cryptocurrency regulations. SEC (Securities and Exchange) commission warned investors to be extra careful with cryptocurrencies because they are very risky. The commission called for a comprehensive legal framework to control cryptocurrency operations. However, the Commodities and Futures Trading Commission appeared to pull in a different direction by classifying cryptocurrencies as commodities.
The United States has established that a local approach will not be enough to drive the expected impact on cryptocurrencies. This has seen it embark on a global mission of working with countries considered highly influential in cryptocurrency realms such as Japan and South Korea. The Secretary of Finance, Steve Mnuchin, explained that the administration was worried that cryptocurrencies could easily be turned into a money-laundering channel.
The Financial Stability Oversight Council created a working group that is targeted with reviewing the cryptocurrency marketplace to avoid it becoming another type of "Swiss bank accounts." While the federal administration appears to take longer, some individual states have moved on to come-up with complete crypto frameworks. One such State is Arizona.
On 23rd April 2018, the Arizona House of Representatives passed bill SB 1091 that opens a new gate to the world of cryptocurrencies. The bill provides Arizona resident with a new way to pay their taxes. Now, they can pay taxes using credit cards, bank transfers and cryptocurrencies such as Stratis. Once a person pays taxes in a cryptocurrency, the coins are converted to USD and credited in his account. This law is believed to be a new dawn that could help to redefine the use of cryptocurrencies. Indeed, it has become a case study with many countries looking forward to replicating similar models.
2) Russia
Russia is one jurisdiction that has made huge strides in crafting cryptocurrency regulations. The effort to craft a cryptocurrency law is a complete shift from the earlier stand. Until 2017, the Russian administration was categorical that it was not interested in regulating cryptocurrencies. It insisted that they were not legal tenders and did not have any problem with users. This stand suddenly changed when it emerged that cryptocurrencies such as Bitcoin and Stratis were altering the investment landscape because many people preferred putting their funds in crypto assets that promised better results.
Early in 2018, the finance ministry indicated that it was impossible to tell whether traders who were accepting payment in cryptocurrencies were committing offenses. Therefore, together with the central bank, the ministry crafted a draft Digital Finance Assets draft bill that deeply defines every crypto concept.
The bill defines the digital assets and sets out rules for ICO operations. It also defines the legal regime for cryptocurrency mining and operation of crypto exchanges. Though this bill will have to go through parliament before becoming law, its application will make it impossible to trade in absolute anonymity.
3) The European Union
Like the United States, the EU appears undecided about the route to take on regulating cryptocurrencies. The different arms of the giant union appear to have divergent views about cryptocurrency regulations. The Central Bank called for caution because cryptocurrencies are risky and could end up being bubbles that can burst and cause huge losses. However, the EU parliament has adopted a precautionary approach by asking for additional studies to understand digital assets.
The different viewpoints are also being replicated by the EU's top leadership. Pierre Moscovici, one of the top EU commissioners indicated that EU was not looking forward to regulating cryptocurrencies. However, the view which appears to represent a significant portion of the commissioners was immediately refuted by the Vice President of the commission, Valdis Dombrowski. Valdis was categorical that cryptocurrencies come with serious threats that must be addressed with urgency. He cited six key issues that are making the commission to target creating new laws immediately.

Price volatility.
Risk of complete losses.
Operational risks.
Security failures.
Manipulation culpabilities.
Liability gaps.

The vice president's views have been supported by most of the EU countries such as Germany, France, and Austria. Even Britain, that has decided to enchant its own path away from the EU, appears solidly in support of EU on this issue. The leaders are concerned that cryptocurrencies could easily be used for criminal activities and tax avoidance.
4) Venezuela
While other countries appear to have issues with creating legal frameworks, Venezuela came up with a completely different idea. The country opted to craft its own blockchain and ban all other blockchain networks from operating in the country. This means that users are free to join and use the government based cryptocurrency network.
The approach is considered as Nicolas Maduro's (Venezuela's president) to circumvent economic sanctions put for the country. Though Venezuela's fiat currency might not be worth much, the state cryptocurrency has made it possible to sell petroleum to other countries without raising the red flag. The approach has become a desirable case study with other countries especially Russia taking a closer look with intention of replicating the same strategy back home.
5) Switzerland
Even as Switzerland's neighbors shout about the risks that come with cryptocurrencies, its leadership does not appear perturbed by the blockchain development. Indeed, it is seeing them as a method of enhancing its development and success in the coming days. Rather than work on new laws to limit the progress of cryptocurrencies, Switzerland is working on a legal framework to help them flourish.
The economics minister, Johann Schneider-Ammann, explained that the government was exploring every strategy to make the country a crypto nation. He indicated that they will start with the supporting the ICOs and their development before moving to other areas of cryptocurrency applications. To achieve this, he indicated that an ICO working group under the Swiss Federal Council was created to help craft a legal framework to support ICOs and their application.
Even if all other countries pass restrictive regulations, one nation that will no doubt be an oasis for blockchain technologies is Switzerland. This is the reason that most cryptocurrency foundations are located or being relocated to Switzerland.
Stratis and Taxes
Just like Stratis regulation, the topic of taxes is even more complicated. Because of the anonymity espoused in the Stratis system, many users in its network believe that they can stay tax-free. This has rubbed most administrations the wrong way. Most administrations are working day and night to end this anonymity and ensure that all people pay taxes.
In Russia, the new Digital Finance Assets draft bill seeks to ensure that all people trading in the exchanges or investing in cryptocurrencies are known. The government wants to have an easy access to all traders so that those who fail to pay taxes will be nabbed easily. In the United States, the government has classified cryptocurrencies as Stratis as commodities so that users can pay appropriate tax deductions. However, only a handful of Stratis and other cryptocurrency holders capture the details when filing their returns.
In Poland, the country has indicated that all cryptocurrency holders will be taxed whether they make profits or losses. This move has angered the cryptocurrency community. Some have even threatened to sue the finance ministry. The same call for people to pay taxes is evident in other countries including Israel, China, Japan, and India among others.
While it is true that using Stratis allows you to operate anonymously, the privacy cannot be guaranteed for life. Tax experts are advising people in the Stratis and other cryptocurrencies to pay all the taxes as required by law as opposed to waiting for the law to catch up with them. With time, new technologies will be discovered and all details stored in the public ledgers will be easily accessible. This could open gates to numerous tax avoidance related lawsuits. However, it does not need to be this way. Here are some useful tips you can apply to enjoy all Stratis related benefits without breaking the law.
Make sure to create always capture the details of your trading on cryptos whether they are positive or negative.
Take note of important details such as traded volume and STRAT value in local fiat currency. This will make it easy to provide clarifications and proof should they be needed.
For traders using Stratis side-chains or accepting payments in STRAT, it is advisable to work with accountants to ensure that all transactions are reflected well in the balance sheet.
Treat revenue from Stratis trading as taxable income.
Does Stratis Have a Consumer Protection?
Stratis does not have consumer protection. One of the key targets of creating Stratis was to enhance anonymity and address issues reported in other networks especially Bitcoin. When the Stratis core creators finished working on the cryptocurrency and released it, the ownership shifted to users spread in the network. This implies that users and nodes spread in the network are responsible for the decisions made in the network.
Once you buy some STRAT as an investment or simply want to send value, it is important to appreciate you are on your own. If something happens to your STRAT or account on the network, there is nowhere to complain. Therefore, you must take precaution to operate safely on the network. Even the Stratis development team with its headquarters in London is mainly focused on the development and offering consultancy as opposed to handling complaints. Therefore, here are some useful tips to operate safely on the Stratis network.
Do not share the private keys with third parties.
Only trade in the exchanges that demonstrate commitment and capacity to protect user's assets.
Make sure to store the private keys and the seed away from the main computer.
Try as much as possible to store the STRAT in cold storage.
Keep the wallet and Stratis client updated all the time.
Illegal Activities with Stratis
Many criminals have demonstrated their preference for blockchain networks because they provide cover, especially from authorities. However, the rigorous system of Stratis has made it very difficult for criminals to perpetrate illegal activities. Since its founding, no illegal activities have been reported.
Is Stratis Secure?
Stratis was designed to not only provide enterprises with a platform for running sidechains but to also guarantee users of utmost security. The system architecture is designed with the primary focus being to make everything extra secure all the time. Here are some of the main strategies used to keep the Stratis network extra secure.
The PoS consensus model at Stratis helps with even distribution of the coins to help reduce the threat of 51% attacks.
The Stratis development team progressively works and releases updates to help seal any emerging gaps and clear bugs.
The platform employs smart contracts that help to define the terms and conditions of interacting and operating in the platform.
The Stratis Consensus Layer is designed as an integral component of the Full Node Architecture. This means that it cannot be modified without the entire network coming into a consensus; a great way to avoid a fork that can cause huge losses.
Is Stratis Anonymous?
Yes, Stratis is an anonymous crypto network. The network is designed to help users operate in total privacy. This is achieved in a number of ways. First, all the details of users and operations are encrypted. This makes it impossible for third parties and even other nodes on the network to know the details of a specific user.
The Stratis system also uses coin swapping and shuffling feature that makes it impossible to trace back the coin owners. The shuffling is made possible through TumbleBit technology that helps to conceals user's trail and prevent easy discovery by third parties.
Has Stratis Ever Been Hacked?
The danger of hacking looms above every cryptocurrency in the market today. However, no successful attack had been reported by the end of the first quarter of 2018. Note that this does not imply there are no hacking attempts on the Stratis networks. The development team indicates there are many cases of attempted hacking but they get identified and thwarted on time.
How Can I Restore Stratis?
When people report cases of crypto coins loss, they have a lot of desperation. However, all might not be lost because there are instances where you can restore the lost coins. Here are the strategies that you can use to restore Stratis.
Loss through forgetting the private keys: To restore STRAT, you need to regenerate the private keys using the seed. Seed is the special code that was generated when you first used a Stratis wallet.
Restoring STRAT lost through damage to the wallet: If your coins were lost through damage to the wallet, you can restore them by reinstalling the wallet from a backup.
If your Stratis coins were lost through sending to the wrong address or hacking, there is no method that can be used to restore them.
Why Do People Trust Stratis?
Many people looking forward to join cryptocurrencies want to have assurance that the selected networks can be trusted. This has made the cryptocurrencies to be a battlefront for trust. Here are some of the top reasons why people trust Stratis.
Stratis uses C# language which is very common to the development community. This provides the cryptocurrency assurance of a bigger development community.
The cryptocurrency has a very elaborate management model that targets progressively developing the core code and advancing the application of different features. With management layers such as Blockchain consultancy and Stratis consultancy, it becomes very easy to bring more organizations to use Stratis.
Unlike the new cryptocurrencies that have been in the market for only a short time, Stratis has been around for longer. Having operated since August of 2016, Stratis core code and features are considered to be stable.
Unlike other cryptocurrencies that are designed with very limited applicability, Stratis is very broad. It is aimed at helping financial institutions, medical research, and even manufacturing. By featuring smart contracts, any person can apply it to a specific project or entire business.
Stratis development team keeps entering into very helpful partnerships. For example, it entered into a partnership with C# Corner in March 2018 to ensure that its features development continued to deliver greater value to users.
History of Stratis
When Stratis was created, the founder assembled a development team that crafted a development roadmap to make implementation easy and progressive. The target was to ensure the network kept growing and becoming better month after month. As newer features get implemented, more people are taking notice and joining the network.
June and July 2016, Stratis held its ICO that netted a total of 915 Bitcoins were raised. A total of 98 million coins (85.7%) were distributed to ICO investors. The remaining 14.3% was reserved for partnerships, incentives, marketing, and core team development.
In November 2016, the Stratis Development Framework (SDF), the SDF.NET Core Native Cross-Platform Support, and Stratis Bitcoin Full Node.NET core support were implemented.
In January 2017, the Cloud Stratis and private side chains were effected. The Stratis Hackathon and Stratis Academy portal were implemented. The academy was used to showcase the potential of the Stratis Development framework.
In April 2017, the Stratis development team implemented the fiat gateways, the mobile applications application beta.
On 8th of January 2018, Stratis price hit $21.21, the highest mark in its history. It was seen as an indicator or the huge potential that the cryptocurrency has.
On 17th January 2018, Stratis entered into a partnership with a Silicon Valley-based company called Gluon. Later in March of 2018, it joined hands with C# Corner. These two partnerships are believed to be very important in helping the Stratis team to maintain the development it thrust needed to implement all the features of the network.
Who Created Stratis?
Stratis was developed by Chris Trew. Chris is a technologist, an architect, and consultant with more than 10 years of experience in the IT industry. He has worked in the financial sector, aviation, legal and government sectors. He is also a backend developer specializing ASP.NET and C# technologies. Other members of the Stratis team include Carton Pringle, Nicholas Dorier, Dan Gershony, Pieterjan Vanhoof, Jeremy Bokobza, and Benoit Philibert.
Stratis Videos and Tutorials
Stratis Analysis
Stratis - A Blockchain Development Platform
See Also